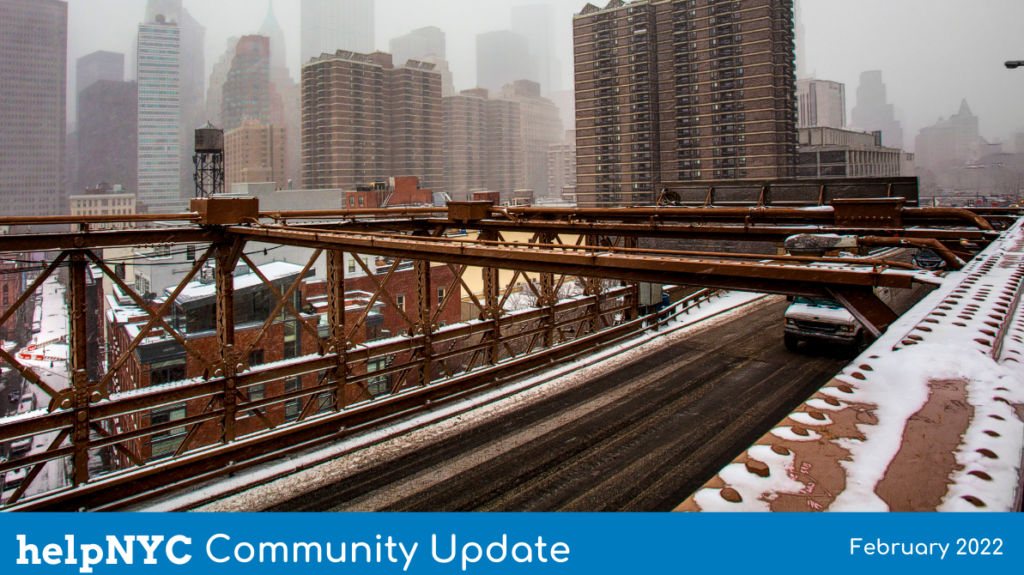 We hope this email finds you well and your February was great. As usual, we have a lot going on here at helpNYC and we are excited to share our work with you!

In the month of February, we saw a rise in new visitors using the helpNYC.info Resource Navigator. Sixteen additional new users a day visited us to find information and resources. The most popular section of the Resource Navigator this month was the Food Assistance section followed by Bronx Fire Relief, Housing Assitance, Financial Assistance, and Substance Use Recovery resources.

We have added the following new sections to the website this month as well: Animal Services, Recovery Lifestyle Resources, and Technology Resources.

We also have launched a new Focus Populations section to list resources that focus on New Yorkers with specific needs based on their demographics. We are currently listing Immigrant Resources, Youth Resources, Homeless & Runaway Youth Resources, and LGBTQ+ Youth Resources. We plan to expand the Focus Population Listings to include Criminal Justice Resources, Domestic Violence Resources, Elders Resources, HIV & AIDS Resources, Homeless Services & Resources, Emergency Housing, and LGBTQ+ Resources.

Most of the people who have found the helpNYC.info Resource Navigator website come from word-of-mouth, web searches, and flyers we have produced. We are humbled by our ability to help New Yorkers in need and look forward to your support as we continue to do this work.

Thank you for your continued support!
Best,

J. RueMel Parkin
Executive Director, helpNYC
rue@helpNYC.co