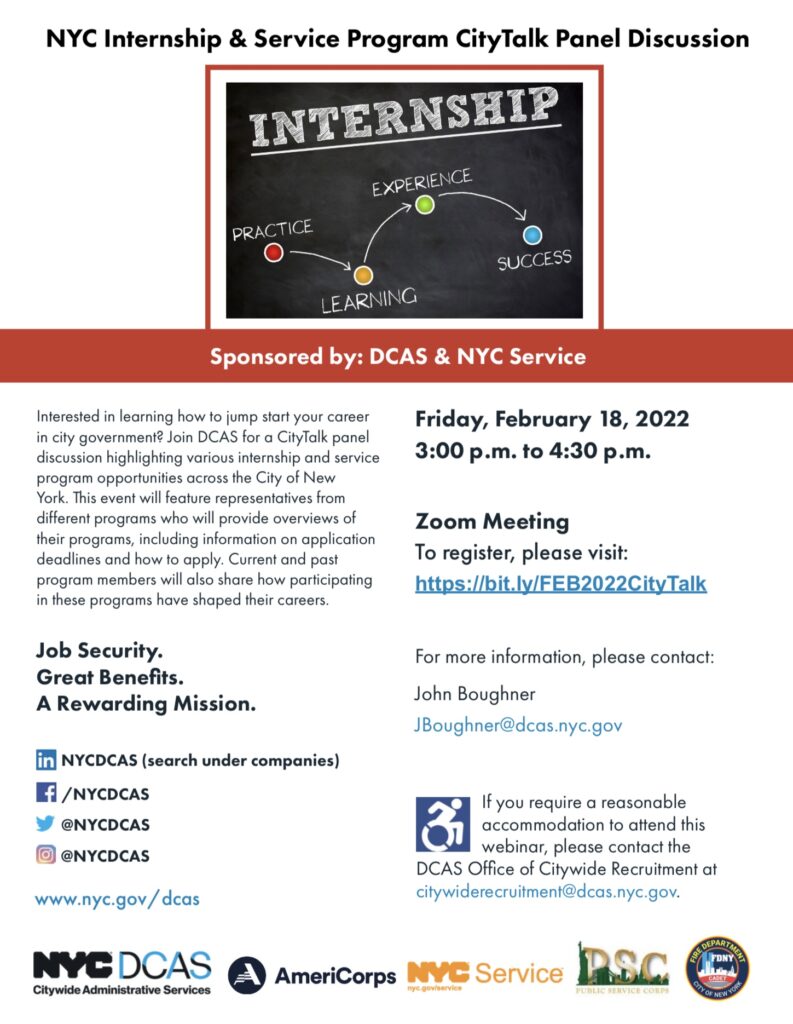 Are you someone seeking work experience but are unaware of where to look? Join us for a NYC Internship & Service Program CityTalk Panel Discussion on Friday, February 18, 2022, from 3:00 p.m. – 4:30 p.m. where we will discuss internship opportunities and service programs that can equipped you with skills, knowledge and experience needed to shape your future career paths. Hear about internship opportunities, deadlines, and application periods from the following programs:
Public Service Corps
AmeriCorps
Summer Internship Program
Fire Cadet Academy (FDNY)
Target Audiences: Young Adults (18+), Current College Students
Job Alert!We are recruiting within the Office of Citywide Recruitment, for three Public Service Corp Interns. New York City Fire Department (FDNY) if also recruiting for future Cadets. Please find attached for more information for internship opportunities along with the flyer for the upcoming Panel Discussion where we will discuss more about the programs. Feel free to share this information with friends, family, and/or the community you serve. The link is active in the flyer for individuals to click and register for the event. I will also provide the link below for your convenience. We hope to see you on Friday February 18th!
Zoom Meeting
To register, please visit:
https://bit.ly/FEB2022CityTalk
Be Well!
Office of Citywide Recruitment | Citywide Equity and Inclusion
NYC Department of Citywide Administrative Services (sc)
(212) 386-1701 | CitywideRecruitment@dcas.nyc.gov