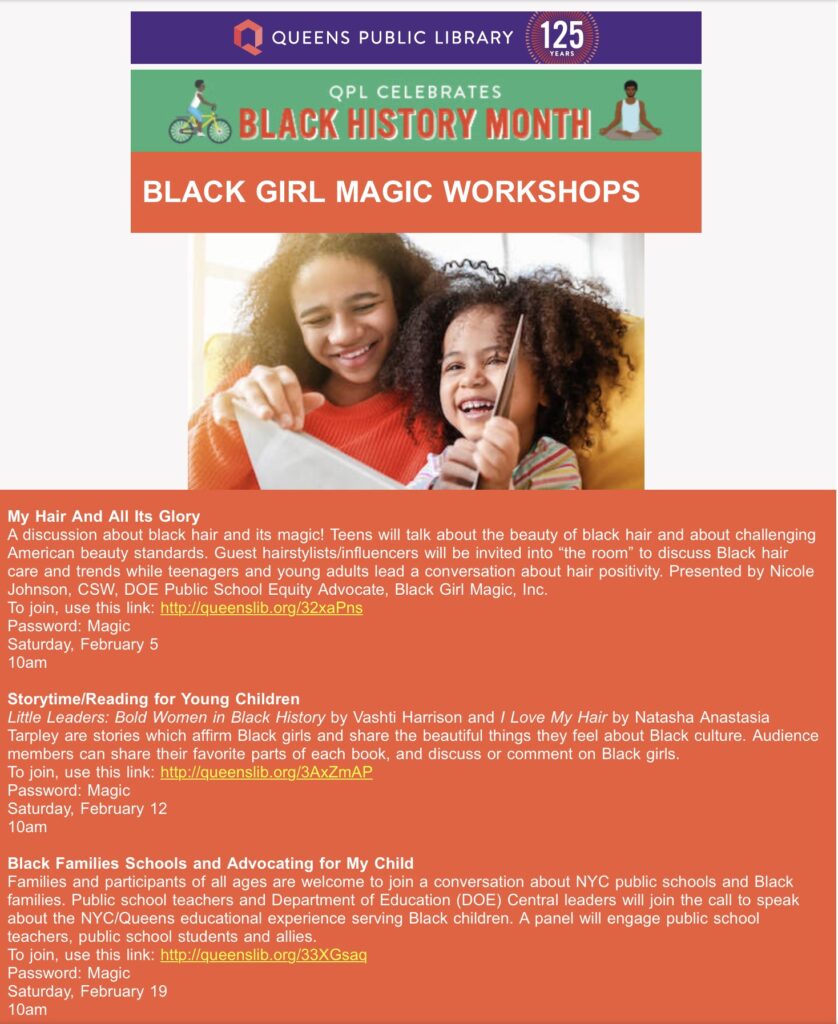 My Hair And All Its GloryA discussion about black hair and its magic! Teens will talk about the beauty of black hair and about challenging American beauty standards. Guest hairstylists/influencers will be invited into "the room" to discuss Black hair care and trends while teenagers and young adults lead a conversation about hair positivity. Presented by Nicole Johnson, CSW, DOE Public School Equity Advocate, Black Girl Magic, Inc.
To join, use this link: http://queenslib.org/32xaPnsPassword: MagicSaturday, February 510am Storytime/Reading for Young ChildrenLittle Leaders: Bold Women in Black History by Vashti Harrison and I Love My Hair by Natasha Anastasia Tarpley are stories which affirm Black girls and share the beautiful things they feel about Black culture. Audience members can share their favorite parts of each book, and discuss or comment on Black girls.
To join, use this link: http://queenslib.org/3AxZmAPPassword: MagicSaturday, February 1210am Black Families Schools and Advocating for My ChildFamilies and participants of all ages are welcome to join a conversation about NYC public schools and Black families. Public school teachers and Department of Education (DOE) Central leaders will join the call to speak about the NYC/Queens educational experience serving Black children. A panel will engage public school teachers, public school students and allies.
To join, use this link: http://queenslib.org/33XGsaqPassword: MagicSaturday, February 1910am