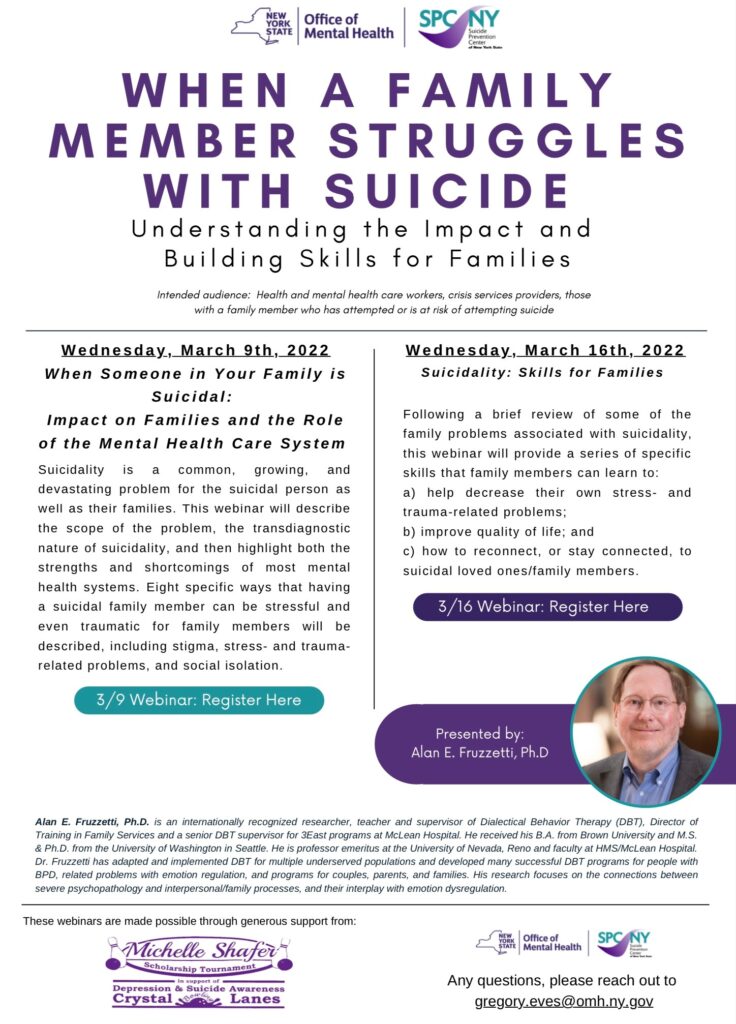 NYSED would like to invite you to attend a webinar sponsored by the New York State Office of Mental Health on March 9th & March 16th.
It will offer you some great resources on how to deal with mental health challenges facing our loved ones and friends.
In this time of Covid struggles and global strife our families can become susceptible to the stresses of the world.
Please click on the attachment in this email to register and view additional information (read Below).
Families and Suicide Webinar (attachment)
The New York State Office of Mental Health and The Suicide Prevention Center of NYS are presenting a series entitled When a Family Member Struggles with Suicide: Understanding the Impact and Building Skills for Families. Suicidality is a common, growing, and devastating problem for the suicidal person as well as their families. The series topics include:
When Someone in Your Family is Suicidal: Impact on Families and the Role of the Mental Health Care System, March 9, 2022, 12pm-1pm
This webinar will describe:
the scope of the problem, the transdiagnostic nature of suicidality, and highlight both the strengths and shortcomings of most mental health systems.
Eight ways that having a suicidal family member can be stressful and traumatic will be described, including stigma, stress, trauma-related problems, and social isolation.
· Suicidality: Skills for Families, March 16, 2022, 12pm-1pm. Following a brief review of some of the family problems associated with suicidality, this webinar will:
provide a series of specific skills that family members can learn to:
a) help decrease their own stress- and trauma-related problems;
b) improve quality of life; and
c) how to reconnect, or stay connected, to suicidal loved ones/family members.
For registration information please see the attached flyer.
Please contact the Office of Student Support Services by email at studentsupportservices@nysed.gov or at 518-486-6090 for questions.