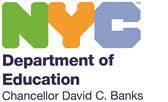 This is a friendly reminder that the DOE is hosting additional high school admissions virtual event series on March 1, 4, 7, and 8. New York City, students apply to high school during their grade 8 year. Current grade 9 students (who are not repeating grade 9) also have the option to apply to programs with grade 10 seats. The high school application is open, and the deadline to apply has been extended to March 11, 2022. The best way to apply is online with your MySchools account
You can attend any of the virtual events mentioned above about high school admissions to learn about high school screens, how to build and submit a balanced high school application, and more!
Register to attend additional Admissions Events where you can find specific dates, times, and interpretation details. Please note that different events will provide supports for different languages. For more information, please visit the DOE Website's High School Page: https://www.schools.nyc.gov/enrollment/enroll-grade-by-grade/high-school
You can also sign up for our high school admissions email list to get updates, tips, and key date reminders at https://www.schools.nyc.gov/sign-up.
If families are new to NYC public schools and need a high school now, they can learn what to do on the New Students page at https://www.schools.nyc.gov/enrollment/enrollment-help/new-students
Please share widely with your respective communities so that families can have access to this information.