Community Update: June 15thDear Friend:On Monday, the City Council voted to adopt the Fiscal Year 2023 budget, which begins on July 1st. As a teacher and Chair of the Committee on Education, it was my priority to see a budget that invests in our young people. When I was a teacher at PS 6, I witnessed how our education system fails to provide adequate assistance to vulnerable student populations, especially English Language learners and students in temporary housing. During budget negotiations, I fought hard to include the specialized support these children need in order to graduate and succeed in life. I'm so proud of the education wins that the Council voted to adopt. As federal stimulus funding for our schools declined significantly, our city's budget got a $700+ million increase in the commitment of city funds spent on our public schools. Our investments in young people included: $277 million for the Summer Rising Program to provide free academic enrichment to students.$79+ million to expand Summer Youth Employment Program to a record-level 100,000 slots (baselined).$46 million to provide increased and fair wages for Special Education Pre-K and Day Care Providers who provide critical services for New York City families.$33.4 million to expand Career and Technical Education.$30 million for Fair Futures program that serves young people in the city's foster care system.$19.7 million to double the slots for Work Learn Grow, which will double the number of year-round youth employment to 4,400 jobs. $14 million to restore Community Schools funding and add funding to support new schools.$11.2 million to provide direct support for students who are English Language learners.$10 million towards childcare for undocumented families.$10 million to advance the Education Equity Action Plan to implement citywide kindergarten-to-high school Black studies curriculum.$9.2 million to support the Low-Income Childcare Voucher program.$5.1 million for DOE Community Coordinators to support unhoused and immigrant students.$4.4 million for CUNY Reconnect pilot program to help working-age adults attain a degree at any CUNY campuses, which will serve 10,000 students in its first year.Both the Administration and the Council continue to finalize more details about the upcoming FY 2023 budget, and I am doing everything in my power to hold the Mayor accountable to maintaining equitable school budgets.We also secured major, non-education wins for working and middle-class New Yorkers, including:Significant funding to further support Vision Zero, a citywide initiative that promotes safer traffic designs, public outreach, and legislation in order to achieve a goal of eliminating traffic fatalities in NYC.Reversing all cuts to the Sanitation Department, including millions of dollars for restoring litter basket pickups twice-daily, six days a week, rat mitigation, street and lot cleaning, and e-waste collection restoration.A major investment for the Parks Department Maintenance and Summer Workforce, which will ensure that our city's beloved green spaces remain enjoyable for all. $75 million to the Fair Fares subsidized MetroCards program, which assists low-income New Yorkers with public transit costs.$237 million to expand City FHEPS to fully fund and increase the rental voucher rate to match Section 8 levels, which will help people avoid getting evicted.$171.3 million to expand Funding for Drop-in Centers, Safe Haven Beds, and Stabilization Beds to to better serve individuals experiencing homelessness. A Property Tax Rebate for Working and Middle-Class Homeowners.While I'm excited about the gains we made, I know that there's still so much more work to do. We can't be complacent, and New Yorkers deserve only the very best.

On a different note, I want to bring two exciting community events to your attention.

On Friday evening, we'll be hosting a screening of the movie Fatherhood at Winthrop Playground. More information can be found in the flyer below.

On Sunday, June 19th, outside Salem Missionary Baptist Church (located at 305 East 21st Street), don't miss the chance to receive a FREE mammogram. To schedule an appointment, please call 718-287-1783 or 1-877-628-9090. Early detection saves lives, so please share the flyer below far and wide!As always, my team and I would love to hear from you: no constituent issue is too big or too small for us. We can be reached at 718-287-8762 for community concerns, and 212-788-7352 for legislative or budget concerns. Feel free to reach out to us to share your thoughts on legislation, to inform us about an issue that needs to get fixed in the neighborhood, to help you navigate city agencies, or to invite me to a community event. We hope to hear from you soon!

Best,
Rita
Council Member Joseph tabled at the Flatbush Avenue Street Fair, where she spoke with constituents about neighborhood issues and priorities.
Council Member Joseph high-fiving a student at PS6.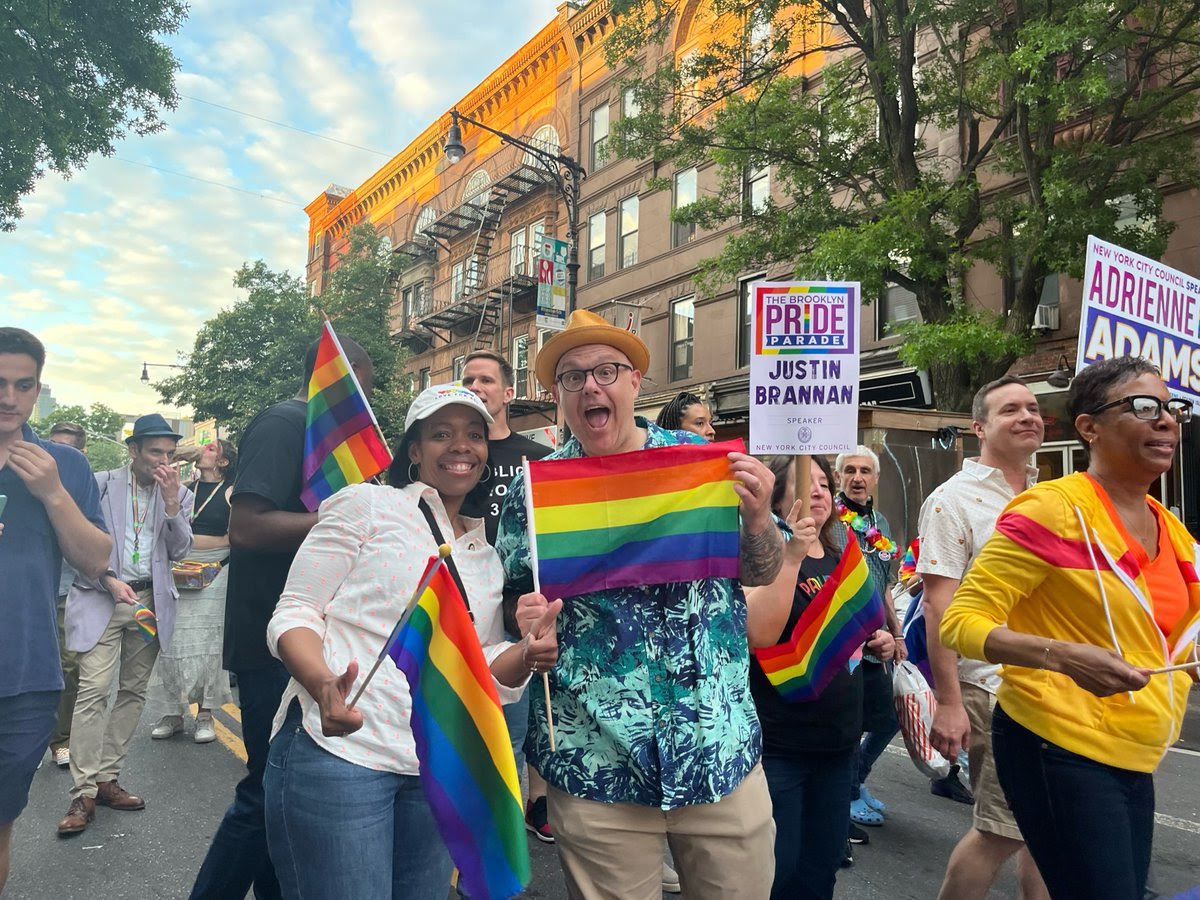 Council Member Joseph marched at Brooklyn Pride with her colleagues in the City Council.
Council Member Joseph joined neighbors at the Gospel Tabernacle Church of Jesus Christ Apostolic Community Health Fair.
Every year in June, the West Indian American Day Carnival Association ("WIADCA"), celebrates Caribbean Heritage Month with various celebrations and their featured event "Eat Caribbean" New York Caribbean Restaurant Week which runs from June 19th to the 25th. If you are a restaurant interested in joining, you can do so here.
An Important Note from Brooklyn Legal Services Corporation A

Brooklyn Legal Services Corporation A ("Brooklyn A or BKA") is a non-profit legal services provider that provides free services for tenants including eviction prevention, repairs, and tenant association organizing; for homeowners seeking help with foreclosure prevention, bankruptcy, and protection against scams, predatory lending, and deed theft; for taxpayers facing issues with the IRS and New York State; and small business owners and non-profits that need commercial lease assistance. If you or someone you know would like to learn more about the event or BKA's services, please reach out to info@bka.org or call 718.487.2300.An Important Note from the DOE:

Starting June 28, all children and teens 18 years and younger may receive free breakfast and lunch meals at sites across the City, including schools, parks, and pools, in all five boroughs. No identification or application is required, and meals will be available Monday through Friday. Breakfast will be served from 8:00 a.m. to 9:15 a.m. and lunch will be served from 11:00 a.m. to 1:15 p.m. at designated sites. For more details and a list of preliminary locations please go to the DOE Summer Meals Site: https://www.schools.nyc.gov/school-life/food/summer-meals.An Important Note from the MTA:

The MTA will be performing track maintenance on the Brighton line during the spring and summer of 2022. This work will improve the safety and efficiency of the Brighton line for our customers, and we appreciate their patience while we complete it.During this time, alternate service along the Q line will be as follows:Weeknights from 11:30 p.m. until 5:00 a.m., from May 24 until August 19: Q operates in two sections, from 96th Street (Manhattan) to Atlantic Avenue-Barclays Center, and from Prospect Park to Stillwell Avenue. A free shuttle bus will operate to connect these two sections, from Atlantic Avenue-Barclays Center to Prospect Park Weekends from 11:30 p.m. Friday to 5:00 a.m. Monday, from July 15 until August 15: Q operates from 96th Street (Manhattan) to Stillwell Avenue via 4th Avenue express (for beach service) AND regular service from Prospect Park to Stillwell Avenue; a free shuttle bus will operate from Atlantic Avenue-Barclays Center to Prospect ParkAn Important Note from DSNY:

Beginning July 5, 2022 Alternate-Side Parking Regulations for street cleaning will be restored to pre-pandemic frequency as posted on the signage throughout the City. We are excited to be getting more of the tools we need to do our job of keeping the city healthy, safe, and clean. Environmental justice begins at the street level, and clean streets are vital to vibrant neighborhoods and our city's economic recovery.Mechanical sweeping is the most cost-effective and efficient means of street cleaning! Mechanical brooms pick up several thousand pounds of litter and debris each day and are key components of a comprehensive public health and environmental justice program. Without this brief period of curb access, litter and debris build up causing a cleanliness problem and polluting our waterways.

Additionally, the New York City Department of Sanitation announced that in observance of Juneteenth, there will be no trash, recycling or compost collection, nor street cleaning, on Monday, June 20, 2022. Residents who normally receive Monday trash or compost collection may place their material at the curb between 4 p.m. and midnight Monday evening, however there will be collection delays, as is common after holidays. We appreciate patience as we work to collect the backlog of material.Residents who normally receive Monday recycling collection should place their material out at curbside between 4 p.m. and midnight on Sunday, June 26 for pickup on Monday, June 27. Additionally, all Sanitation Department administrative offices will be closed on Monday, June 20 in observance of the holiday. For questions about Sanitation services and holiday schedules contact 311 or visit nyc.gov/sanitation.NYC Health is hosting Rat Academy webinars. Click on your desired date to register:Wednesday, June 22, 5:30 p.m. to 7:30 p.m.Tuesday, June 28, 6:00 p.m. to 8:00 p.m.www.nyc.gov/rats
You are invited to join an in-person Rat Academy this Friday, June 17th at 12PM at 505 LaGuardia Place (Community Room) in Manhattan!

DOHMH will be raffling off rodent-resistant garbage bins at this event! If you are interested in attending, please register here. The Brooklyn Bodega invites you to join their in-person events.Council Member Joseph encourages you to get both vaccinated and tested for COVID. You can find testing locations here and vaccination locations here.An Important Note from The City Parks Foundation:

SUMMER ACTIVITIES: Let's get kids outside this summer! The City Parks Foundation is currently enrolling kids in their free weekly youth sports programs set to start up this July in parks across all five boroughs. Perfect for beginners, kids can learn a new sport, get active and make new friends along the way. Now more than ever, it's important to get kids playing outside to help improve their physical, mental and emotional wellbeing.

For kids ages 7 to 17, registration for our free summer programs is now open for: • Tennis • Golf • Track & Field • Soccer • Everyday Play – multi-sport program Programs run daily throughout the week with times in the morning and afternoon. Visit the City Parks Foundation website to find out each program's schedule and to sign up now. Join the Brooklyn Bank for a Juneteenth Financial Literacy Lecture at Kings Theatre! Further information can be found here.An Important Note for Small Businesses:

In partnership with Hello Alice and the Global Entrepreneurship Network (GEN), the Antares REACH Grant Program will provide $20,000 grants to small businesses, with an emphasis on businesses preparing for their next stage of growth; operated by historically underrepresented entrepreneurs; and providing important community services.


To be eligible, a business must:Be a for-profit business that is majority (51%) owned and/or operated by individuals who identify as New Majority (Womxn, People of Color, Military-affiliated, Persons with Disabilities, or LGBTQ+)Have less than $5 million USD in annual revenueHave a demonstrated need for supportHave a strong plan for moving forward.For a full list of eligibility criteria, please see the terms and conditions. The deadline is July 15, 2022, at 6 p.m. ET.