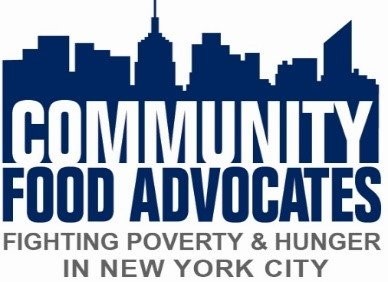 Community Food Advocates Fall Newsletter
     
In This Issue: 
– YFA welcomes new members
– Healthy School Meals for All statewide campaign builds momentum
– New York State GFPP campaign launches on October 11th      

Youth Food Advocates is Growing School Food Experts    

YFA Leadership Training and Summer Program
New Youth Food Advocates members spent this summer growing their expert knowledge in school food and high-impact public policy through our week-long YFA Summer Leadership Training. Training week covered 150 years of school food history, 13 national policies that exacerbated the racial wealth gap, the organization of school food from the USDA to our school cafeteria, and so much more. They met experts who shared their experiences, from grassroots historical efforts like the Black Panthers Breakfast program to Office of Food and Nutrition leadership who highlighted the future of school food in NYC.
YFA Good Food Purchasing Program Training
Returning YFA members had a unique opportunity to attend our very first Good Food Purchasing Program (GFPP) Training. GFPP Training deepened our knowledge of how GFPP aims to transform the food system through NYC public agencies' enormous food purchasing power.
YFA Newsletter – Spring/Summer 2022, Issue 5
To hear directly from youth voices about all their efforts and work, check out the YFA Newsletter.  This "School Food & Our Cafeterias" issue includes the YFA efforts for enhanced cafeterias, highlights from spring and summer activities, and a special invitation for young people across NYC to share their feedback on school food and their day-to-day experiences in our school cafeterias!  

To sign-up for the YFA newsletter, email: youth@foodadvocates.org
Statewide Universal Campaign: Healthy School Meals for All NY Kids
Community Food Advocates, Hunger Solutions New York, and our partners and supporters (170+ and growing) statewide have been working hard since our Healthy School Meals for All campaign launched this past spring. This month we are headed to Albany to present our proposal to the Governor's office.  

States such as California and Maine have passed legislation to make Healthy School Meals for All a reality for their children. It's time for New York State to do the same.   

Join us in showing your support for the statewide Healthy School Meals for All campaign. Fill out this form to have your organization/affiliation listed publicly as a supporter. If your organization cannot be listed publicly, or if you do not represent an organization, you can sign up for email updates to be kept in the loop about ways to get involved. 
CFA launches the New York State Good Food Purchasing Program (GFPP) coalition!
After several months of meeting with stakeholders across the state and strategizing with legislative partners, we are excited to announce that we will officially launch the NYS GFPP Campaign on October 11th!  

The New York State GFPP Coalition will work alongside both the NYC-GFPP and Good Food Buffalo Coalitions to achieve passage of the Good Food NY Bill while supporting the implementation of Good Food purchasing policies in municipalities across the state. We will be joined by NYS Senator Michele Hinchey (Chair of the Agriculture Committee) and Senator Liz Krueger (Chair Finance Committee) and the Center for Good Food Purchasing.  

If you are an organization based in New York and are interested in working to change public food purchasing for the better, please join us at our webinar on Tuesday, October 11th from 12-1:30PM. Register here.
Watch Ribka Getachew talk about Good Food Purchasing on the Edible Activist podcast.
Lunch 4 Learning Celebrates $50M for Cafeteria Redesign Program
L4L secured $50 million towards the redesign of 100 NYC school cafeterias this past spring. This was a huge win for our coalition!   

For the first time in a long time, students will be back in the cafeteria full-time following a year of disruptions to school food services due to ongoing pandemic-related impacts. This fall, we're going to be reengaging the Adams administration and the City Council to secure the remaining $200 million to include cafeteria redesign for all high schools and middle schools.    

At CFA, one of our priorities over the past year was expanding grab-and-go accessibility for students﹣with the NYC DOE Office of Food and Nutrition Services (OFNS) having made a commitment that grab-and-go will be available for breakfast for our students.  

Our students deserve a beautiful place to eat and the guarantee that their dietary needs will be met. L4L believes in and continues to advocate for the expansion of halal and kosher meals, menu and service model flexibility.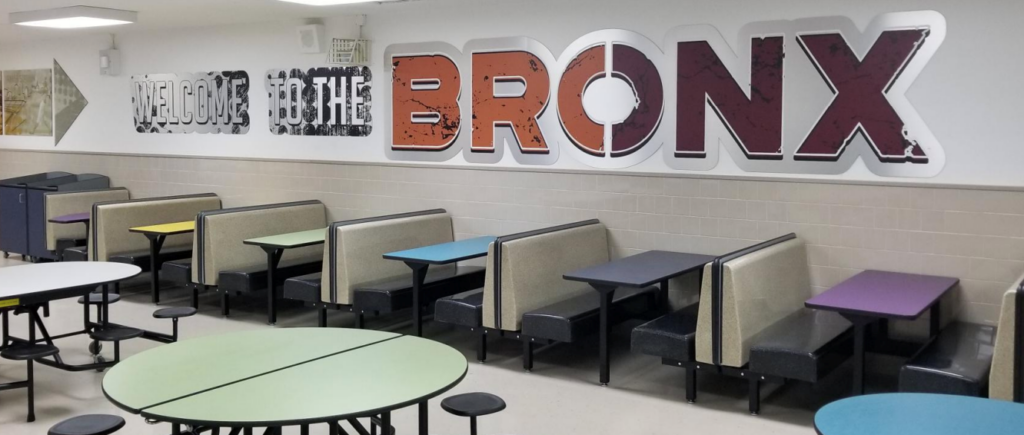 Click here, to see our full look book.  

In the know …   

Back-to-School – Meatless Mondays and the new Plant-Powered Fridays that were introduced last school year will continue into this year. Halal and Kosher meals will continue to be available upon request. If interested, reach out to your principal and school fund manager for more information.  
Our Contact Information
Community Food Advocates
110 Wall Street
New York, NY 10005
646-603-3021