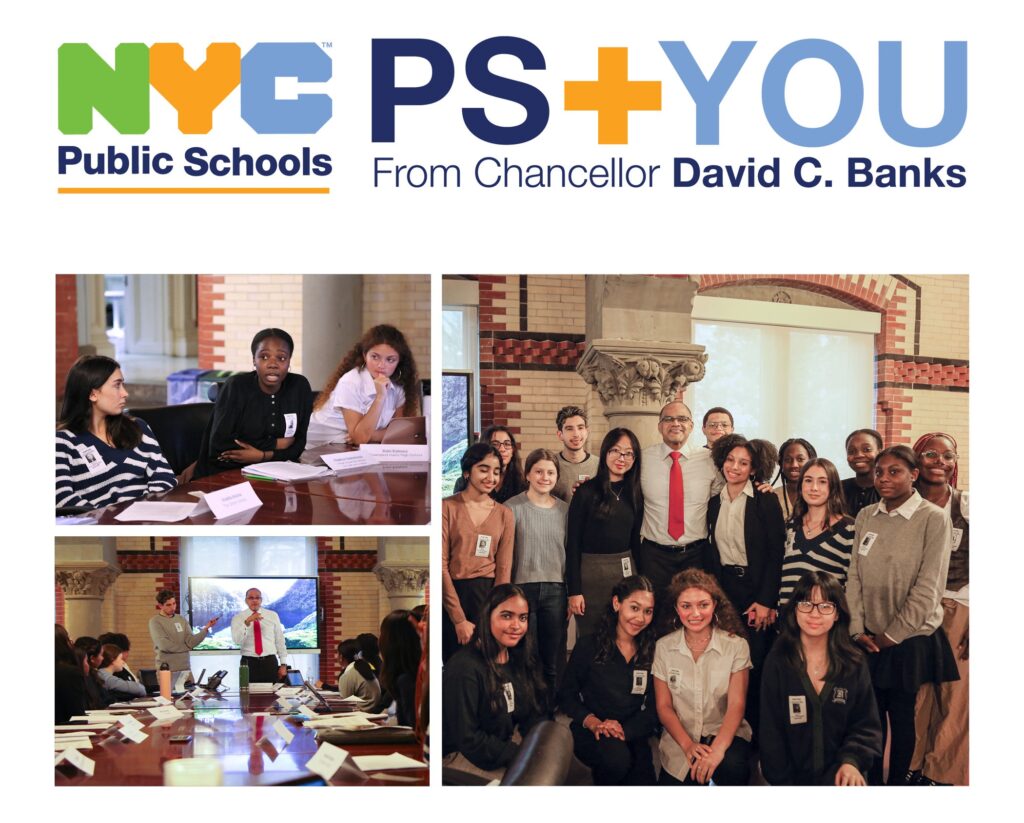 Dear New Yorkers,
As a student at Hillcrest High School in Queens many years ago, I wrote for the school magazine and learned the power of journalism to create real change. Since then, I have always believed in the importance of student journalism. For me, it represents the ability to think critically, to understand what's going on in the world, and to know how to speak up for what's right. It's also a way for young people to both celebrate their communities and hold those in power accountable.
This week, I relived the joys of my student journalism days by sitting down with about 20 high school journalists at Tweed. These sharp, aspiring journalists from schools throughout the city peppered me with tough questions on a broad range of topics. For example: "What would you, as Chancellor, do to protect student journalists from censorship?" And: "How do you intend to increase access to journalism programs for students in predominantly black and brown schools?"
They asked for my views on: First Amendment rights for student journalists; how I would get schools the right extracurricular activities to keep students connected to their school and out of trouble; and even about the book I'm currently reading ("Savage Inequalities," which I'm re-reading).
I was impressed and inspired by how knowledgeable these students were about the important issues affecting their education and how eager they are to explore career opportunities with professional journalists.
This is exactly what I have in mind when I speak about the bold futures I see ahead for all of our students. By nurturing student journalism programs, we give our students an education that extends beyond the classroom and makes a real connection to a great career.
We're already exploring some of the great ideas that came out of this meeting, including bringing together students and adult reporters and creating partnerships with higher education to support school journalism programs. I want to give all of our young people as many opportunities as possible to do the things that really matter to them. This is what gives them purpose and brings their future into focus.
And as a lifelong educator, I couldn't help but offer the students some advice. I encouraged them to keep expressing their voices; that's the power of being a journalist. That's the power of the pen, the power of the microphone. And I encouraged them to always do their research and to never stop asking tough questions. Elevate the truth; make your voice matter.
Our conversation was the highlight of my day and filled me with such hope and optimism for the future of our city. I am so grateful to our journalism teachers, advisors, and principals for supporting this work. And I look forward to meeting with more of our students to hear what's on their minds and to remind them of the critical role they play in our society. The students I met with this week clearly understand the world around them and appreciate the power and promise that come with being a journalist. I could not be prouder of them.
Soaring high,
David C. Banks
Chancellor
Clean School Buses

This week, NYC Public Schools announced an EPA grant for more than $18 million dollars to put 51 new clean-energy school buses on New York City streets. These buses will run entirely on electricity; no more fossil fuels. We hope to have a fully electric school bus fleet by 2035. The transition to clean buses is another way we are protecting our environment, our children, and our city's future.
---