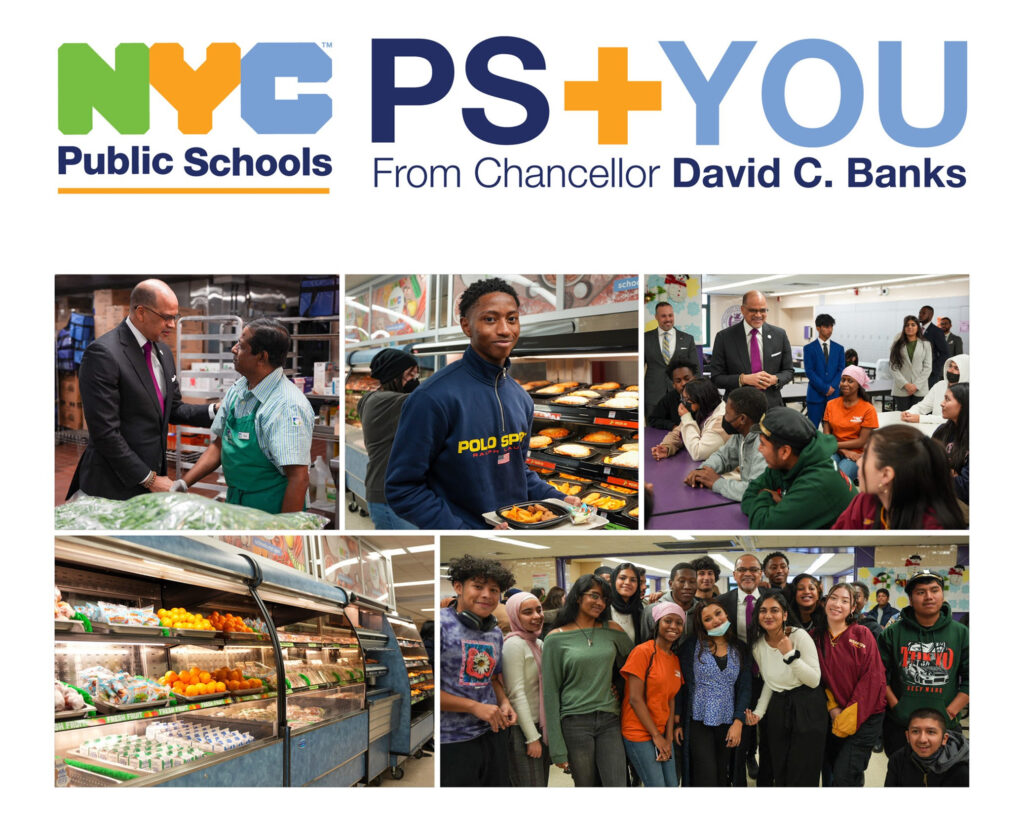 لعربية / বাংলা / 中文 / Français / Kreyòl ayisyen / 한국어 / Русский / Español / اردو
Reimagining the Student Dining Experience
Dear New Yorkers,
I'm so excited to welcome your children back from Winter Recess, and I hope that they're just as excited to be back in school with their classmates and teachers.
We know that when you entrust your children to us, you expect them to not only receive an outstanding education but also the wraparound supports and services that can help them thrive, including free breakfast and lunch every single day.
Our schools are not only places of learning but of care and comfort—and a tasty and nutritious meal is a critical part of that. When our students have a nourishing, healthy and culturally reflective meal each day, they perform better in the classroom and they are more likely to make healthy decisions in the future.
I know many of us have an image of what school food is—from decades ago when we were in school. Today in our school cafeterias, we serve fresh salads, local produce, and a variety of nutritious menu items that reflect our students' culture.
To encourage our students to take advantage of these meals, we are expanding the Cafeteria Enhancement Experience—and reimagining the way our students dine. This expansion is kicking off with a $50 million investment to transform more than 80 cafeterias into warm and welcoming spaces for students to dine. Here's what your children can expect:
Student choice: a variety of ways to eat breakfast, lunch, whole fruits, vegetables, and fresh-cut produce from salad bars.
Fast service: Students won't have to wait in a long line for meals, leaving more time to relax and unwind with classmates.
Modern style: Redesigned cafeterias with an emphasis on creating a warm and welcoming environment.
New furniture: Comfortable tables and chairs will welcome students to their new space.
As part of this enhancement, we'll be expanding access to halal options in schools across the city. So far, we've certified 78 of our kitchens for halal meal service. This allows our kids to experience meals in an equitable way: with no separate lines, no separate meals, and options for every student.
None of this would be possible without the tireless work of our food-service teams. These are the caring adults who interact with your children every day and ensure that they have the nutritious and delicious meals they need to power through their school day. I am so grateful for their dedication and hard work.
I hope the new dining spaces whet your children's appetite and have them looking forward to the chance to get some good, tasty food and unwind with their friends.
Soaring high,
David C. Banks
Chancellor