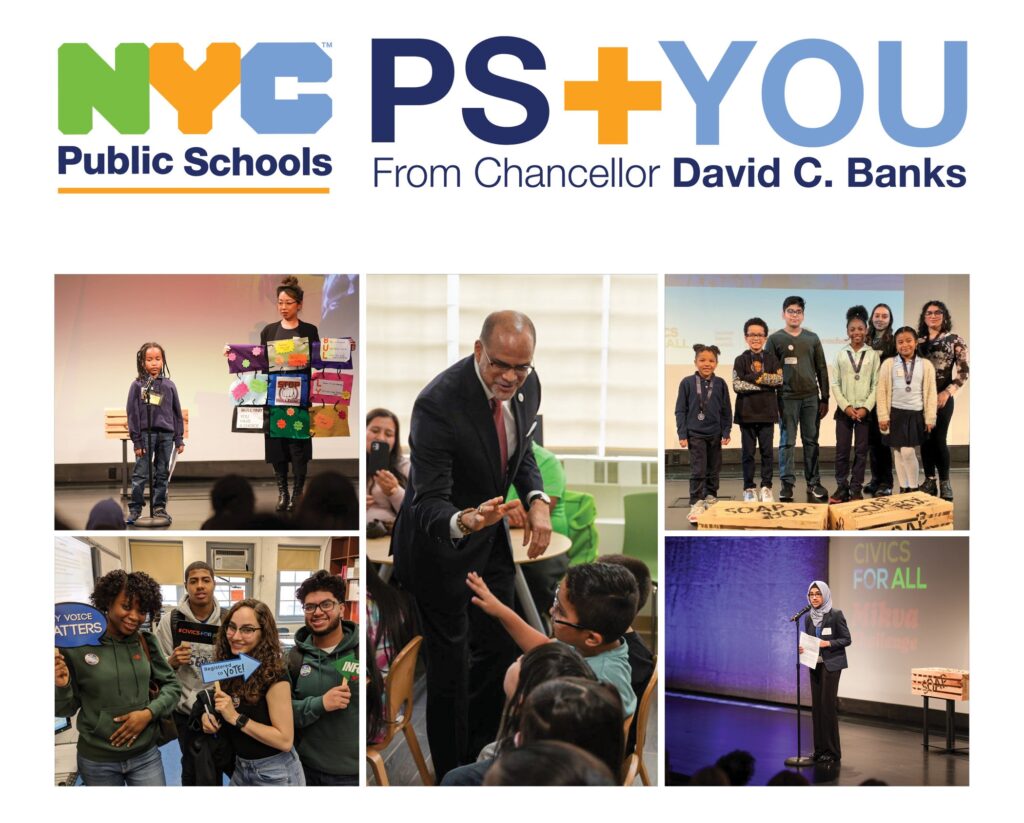 The Voice—and Light—of Our Future
Dear Colleagues,
I couldn't have been prouder as I watched 11 brilliant elementary, middle, and high-school students take the stage at the New-York Historical Society last week as part of SoapboxNYC—an annual student-voice showcase. Our students spoke passionately and eloquently on serious topics such as gun violence, women's rights, equal pay, and the decline of the American education system.
When Jose Ortega, a fourth-grader from P.S. 205 Alexander Graham Bell in Queens, spoke about the need for adaptive changes to playground equipment to make parks more accessible to students with disabilities, I vividly saw the profile of a future mayor of New York City—and only partly because he was dressed in a three-piece suit.
Thousands of students participated in SoapboxNYC this year, a partnership between our Civics for All program and Mikva Challenge—an organization that helps young people use their voices to become empowered citizens. Using the Project Soapbox curriculum, students from every grade identify and learn about an issue that matters to them. They then share how it affects the greater community, and they deliver a call to action and a plan to address the issue. Students from 144 schools delivered their original speeches at the SoapboxNYC culminating event last week.
Being a part of this year's SoapboxNYC event may have been the best two hours I've spent so far as Chancellor. The program represents so much of what I think public education is missing. It brings school to life for our kids, shows them how their learning, their thinking, and their voice have the power to solve problems, bring a great sense of fulfillment, and make our world a better place. We need to do a better job of showing our kids the real-world connections to what they're learning at school. Getting students fired up about learning and its relevance to their lives, while also giving them the chance to express themselves, shows them the power of a great education…and gives them a clearer view of their future.
Every single speaker blew me away, and I also want to shout out all of the 174 students who participated; their teachers said each student delivered a powerful and convincing speech.
It means so much to me as Chancellor to spend as much time as possible with our students—seeing their brilliance firsthand, feeling their energy, and listening to their ideas and convictions.
They may not know it yet, but our city needs them. Our future needs them. They are the leaders of tomorrow…and of today.
As always, my gratitude to every single teacher, coach, and family member who supported our young firebrands, as they blaze a brighter future for us all.

Soaring high,
David C. Banks
Chancellor