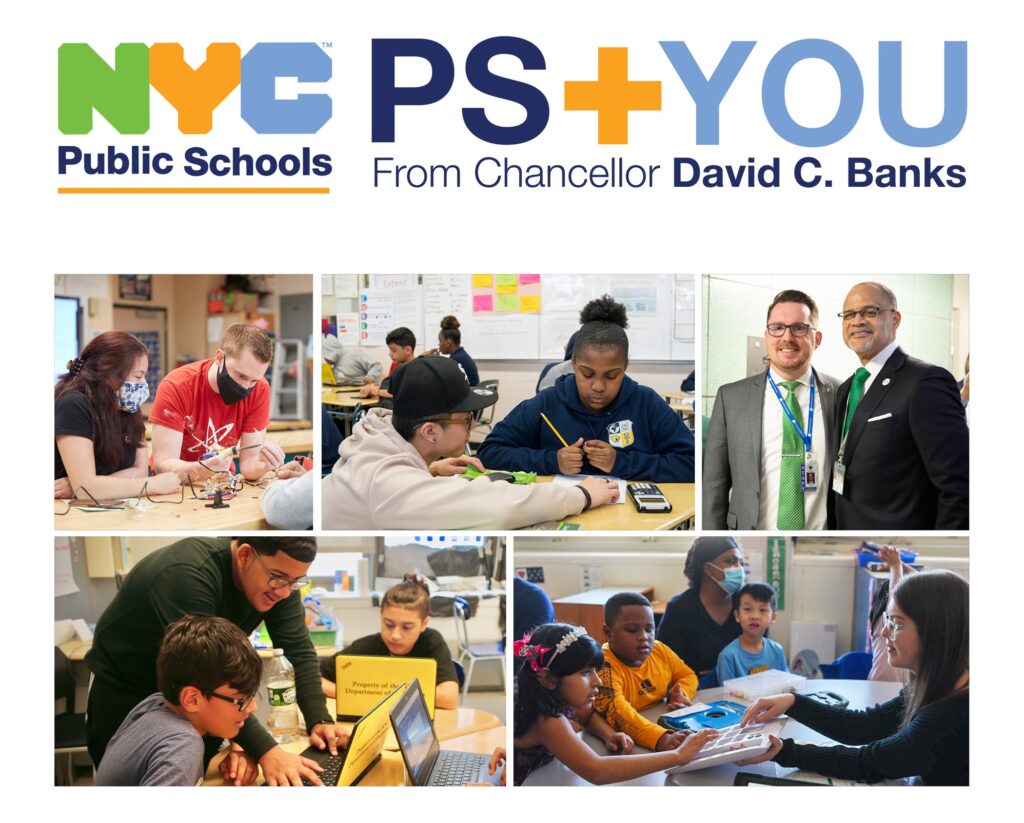 لعربية / বাংলা / 中文 / Français / Kreyòl ayisyen / 한국어 / Русский / Español / اردو

The Big Apple Awards—Honoring Our Heroic Teachers
Dear New Yorkers,
I'm incredibly grateful to our dedicated, hard-working teachers, who not only educate our students but nurture and guide them along the path to their bright futures. As a proud New Yorker myself, I know the life-changing power of our great teachers.
I will never forget the fourth-grade teacher at P.S. 161 in Brooklyn who transformed my life. Mrs. Mildred Scott was an inspiration. She taught me Black history. She saw me, and all of my classmates, and she helped me learn who I was and propelled me forward as a young boy. She also taught me about responsibility to community, and I took all her lessons with me as I became a teacher at P.S. 167 in my old neighborhood on Eastern Parkway.
I believe that all great teachers share Mrs. Scott's devotion—borne out of love of learning and out of a deep caring for our children. Great teachers see their job as a calling and are passionate about lifting their students up… not just academically but emotionally as well. Great teachers have high expectations for their students and give them the confidence to soar.
Now, you have an opportunity to help recognize and thank teachers for their service and great work by nominating them for the annual Big Apple Awards. These awards celebrate New York City teachers who inspire students to be their best selves and help get them ready to chase their dreams.
Students, families, colleagues, and community members can all nominate any New York City Public Schools teacher by visiting schools.nyc.gov/BigAppleAwards. The nomination period is open through February 28.
One very joyful part of my job is making surprise visits to notify winners in their classrooms! To see the faces of these often-unsung heroes light up truly makes my day. Winners get to participate in the Big Apple Fellowship, where they can hone their leadership skills and serve on the Chancellor's Teacher Advisory Council and contribute to key policy decisions across our schools.
I encourage you to think about the great teachers in your child's life and nominate them for a Big Apple Award: The teacher who gave your child extra help with a classroom lesson. The teacher who recognized a special talent in your child. The teacher who made your child feel seen, cared for, and uplifted.
A Big Apple nomination is the single best way to show these educators that you recognize and appreciate all that they do—day in and day out—for our students.
On behalf of all of us at New York City Public Schools, I want to thank our teachers for your talent, your dedication, and your unwavering belief in our kids. Like Mrs. Mildred Scott did for me, you are making a real difference in the lives of our children.
Soaring high,
David C. Banks
Chancellor
Celebrating the Lunar New Year 
On January 24, Chancellor Banks celebrated the Lunar New Year at P.S. 130 Hernando De Soto School in Chinatown, where students proudly took the stage to share what they've learned about different cultures and communities. The event marked the culmination of the successful Hidden Voices: Asian American Pacific Islander pilot program, which helped New York City's students learn about and honor the numerous people, often "hidden" from traditional historical records, who have shaped and continue to shape our history and identity. The Chancellor also announced a new AAPI curriculum guide, which will be available for all educators to begin building their own knowledge around AAPI history and content.