By Reema Amin and Amy ZimmerMar 2, 2023, 5:07pm EST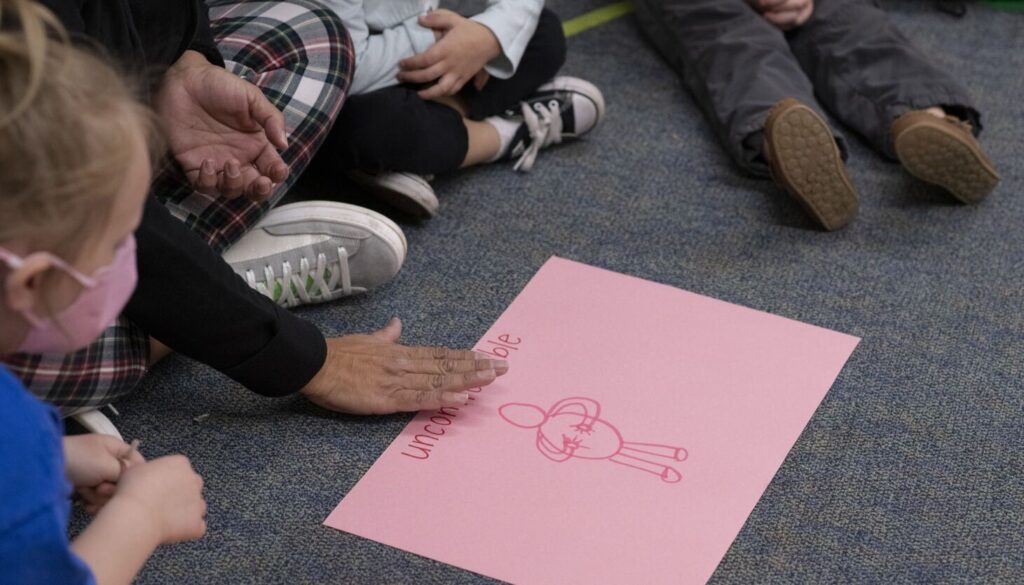 A teacher points to a piece of pink construction paper that has a stick figure drawing and the word "uncomfortable" on it. Mayor Eric Adams announced plans to broaden access to mental health services to young people.
Rachel Woolf for Chalkbeat
How schools seek to overcome pandemic-related mental health challenges and the broad impact of long-standing inequities.
If you or someone you know is considering self-harm, please dial 988 for the national Suicide & Crisis Lifeline.
As New York City continues to grapple with youth mental health challenges, Mayor Eric Adams laid out a sweeping vision on Thursday to help schools better recognize student mental health needs and create a safety net for kids in crisis.
The needs are high: About a fifth of children ages 3 to 13 had one or more mental, emotional, developmental or behavioral problems in 2021, according to health department data provided in the mayor's new plan, called Care, Community, Action: A Mental Health Plan for New York City.
Rates of suicidal ideation jumped to nearly 16% from about 12% over the past decade, with more than 9% of the city's high school students reporting they attempted suicide over the course of 2021. 
"We've all seen the isolation and trauma that children have experienced over the past several years, along with the results: disappearing into screens, behavioral issues, and even suicide," Adams said while revealing the plan.
Addressing the mental health needs of young people and their families was one of the three major focal points of Adams' blueprint. The plan calls for several things, including opening more school-based mental health clinics, creating suicide prevention trainings for educators, and assessing the impacts of social media as possible "toxic exposure."
Though most of the ideas lacked details in terms of timeline and cost, the mayor did add a price tag of $12 million for a previously announced telehealth hotline for high school students, which the city says will be the largest of its kind in the nation.
City officials said they will track certain data points to determine whether the plan is working, including the number of contacts made by or on behalf of youth through NYC Well (the city's free, confidential support, crisis intervention, and information and referral service), and the percent of young people reporting feelings of sadness and hopelessness.
Here are four highlights from the plan that relates to youth and schools:
City taps telehealth to fill treatment gaps
The mayor initially announced in January that the city would launch a telehealth program for high schoolers, though has not said when the program will launch and how students can access it. 
Officials said Thursday they are still working out details. 
Read More at: NYC youth mental health service overhaul: City pledges to help kids – Chalkbeat New York
By Reema Amin and Amy ZimmerMar 2, 2023, 5:07pm EST