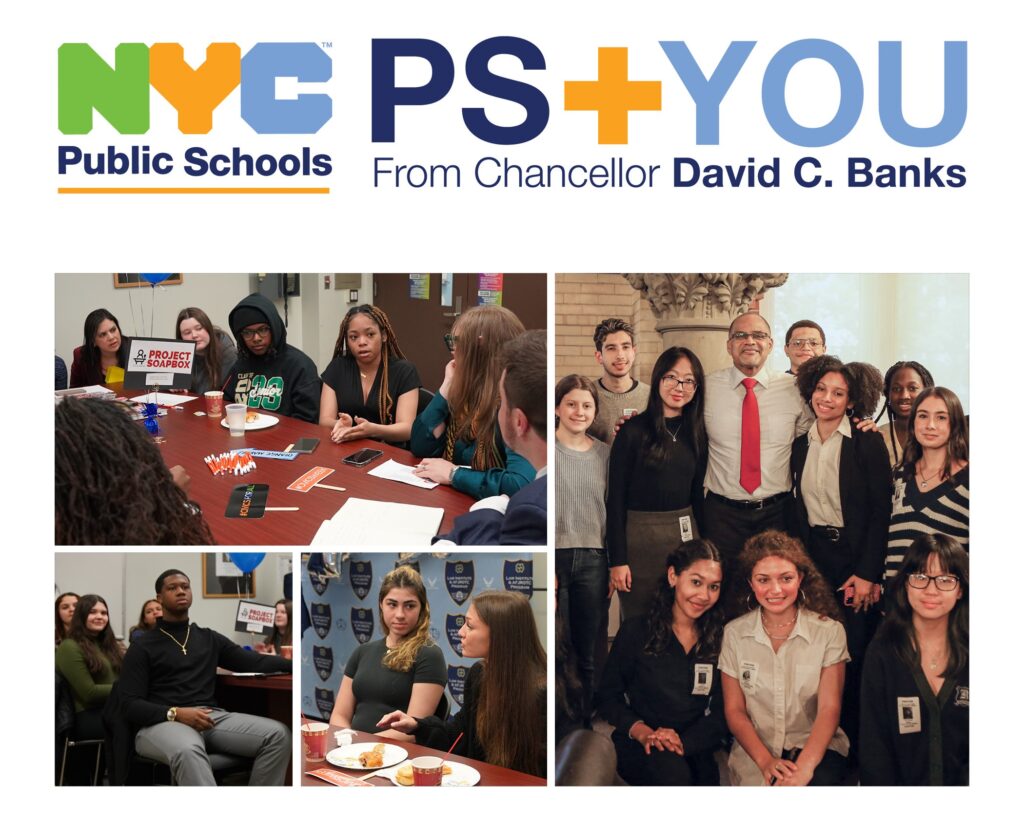 العربية / বাংলা / 中文 / Français / Kreyòl ayisyen / 한국어 / Русский / Español / اردو


Empowering Our Students to Change the World
Dear New Yorkers:
Your children have the power to change the world simply by sharing their voices and experiences. Now, more than ever, our democracy needs citizens who are active and engaged, and our public schools are a critical part of building the citizens of tomorrow.
That's the message we shared with students in schools throughout the five boroughs as part of the City's fifth annual Civics Week that began March 6. Civics Week not only celebrates youth voice and civic empowerment, it provides students with opportunities to engage face-to-face with the leaders of our city, explore careers in public service, and create change as active participants in their communities.
At New Dorp High School in Staten Island, students put together competing participatory budget proposals—one for charging stations, another for on-campus laundry—that their classmates will vote on. This is just one example of how students in our public schools can gain hands-on experience and a deeper understanding of how things work in the real world. It is an invaluable lesson for all those involved and shows students that their hard work is worthwhile to make things better even if they won't be around to directly benefit from it.
All high schools received voter registration forms and can hold registration drives, the first step toward building a culture of lifelong commitment to voting and civic engagement. All schools received a collection of curricular resources and other materials to use in their classrooms to promote civic learning. These included lesson plans on the importance of civic engagement and voting, classroom materials to promote excitement about civic participation, and three exciting, new comic books from the made-for-NYCPS Civics for All Comics Group collection: Action Activists #3, Recognized #2, and Barrier Breaker, which tells the story of Jackie Robinson's fight for civil rights and his legacy beyond baseball. Other resources included photo booth props and "My Voice Matters" stickers.
Joshua Malcolm, a seventh grader at P.S./I.S. 266 in Queens said the week's activities taught students "how to speak up and not be afraid to express our thoughts."
Mason Esguerra of P.S. 107 Thomas A. Dooley in Queens said he learned "Teamwork leads people to great success. Everyone is in this together and we can all make a difference in our school community. It is important to take a stand for what we want to change."
I want to thank our partners—the Mayor's Public Engagement Unit, the Civic Engagement Commission, and DemocracyNYC—for inspiring our young people to actively participate in our democracy and make their voices heard. Huge thanks also to our school leaders, teachers, and administrators for showing our young people that when they work together, they can create the change they want to see… in our city, in our state, and in our world.

Soaring high,

David C. Banks
Chancellor
Our Weekly Recap Video
For translations, please visit our YouTube page.
And here's the weekly video from Mayor Eric Adams. If you're interested in receiving updates directly from the Mayor's Office, please click here.