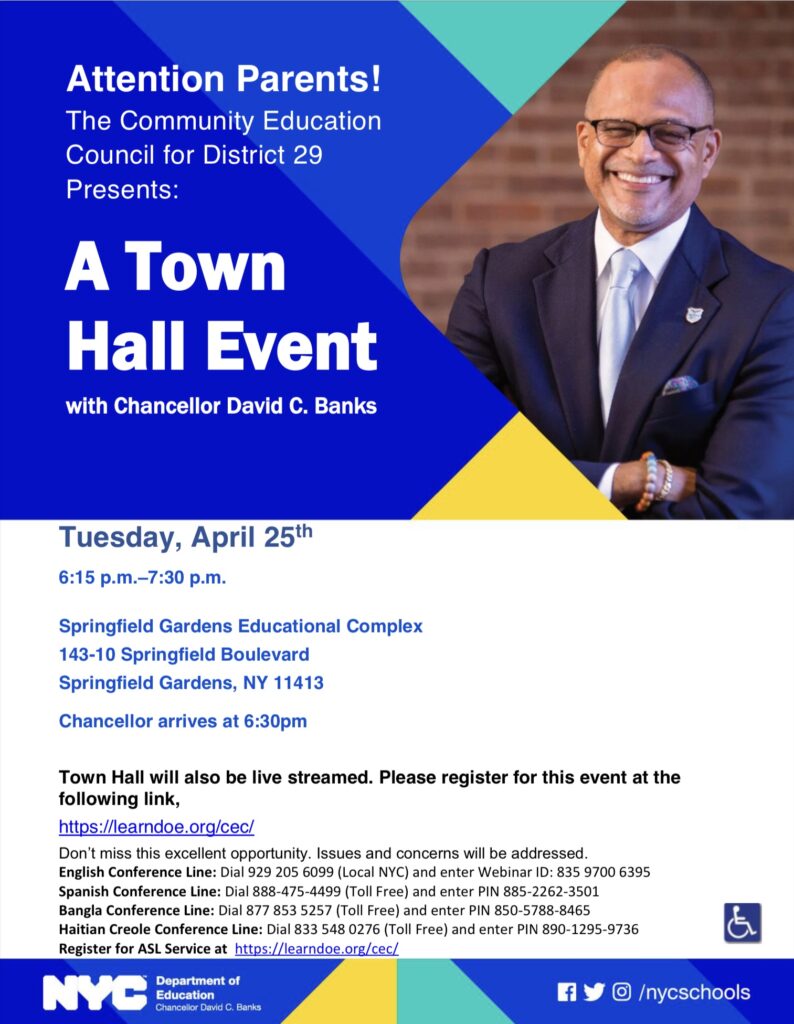 Dear District 29Q School Community,
CEC 29Q is hosting a Town Hall with Chancellor Banks on Tuesday, April 25, 2023, at 6:30 PM at the Springfield Gardens Educational Campus (doors open at 6:00pm).
Please see the attached flyers in multiple languages. We ask for your partnership in widely publicizing this important community event.
Interpretation will be provided in the following languages:
Spanish | Conference Line: Dial 888-475-4499 PIN 885-2262-3501
Bangla | Conference Line: Dial 877 853 5257 PIN 850-5788-8465
Haitian Creole | Conference Line: Dial 833 548 0276 PIN 890-1295-9736
Please encourage families to register at https://learndoe.org/cec/
Note*** please remind the community that the VACCINE MANDATE IS NO LONGER IN EFFECT and that parents and everyone who wishes to attend in-person, can enter the building without proof of vaccination.
Thank you,
Nakida C-Camille
Administrative Assistant
Community Education Council 29Q
Telephone: (718) 341-5408
Fax: (718) 341-5415
Check us out on the web: https://www.cec29.com/
Run for a Seat on a Citywide or Community Education Council (CCEC). Learn more about education councils and how you can participate: https://www.schools.nyc.gov/get-involved/families/Community-and-citywide-education-councils-cecs/elections-2023-community-and-citywide-education-councils
Find help in NYC with food, money, housing, work and more on ACCESS NYC: https://access.nyc.gov/