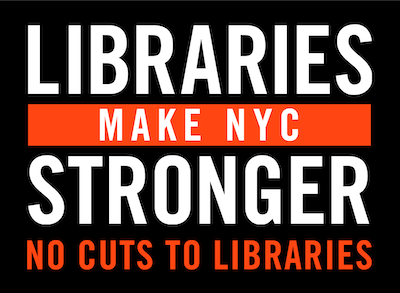 Public libraries are for everyone, offering free access to knowledge, information and opportunity, no matter an individual's background, identity or circumstances. Everyone knows they can count on their local library to get what they need, but libraries are facing millions of dollars in cuts in the upcoming City budget.
These cuts will severely affect our services. They will result in reduced hours open to the public, fewer programs, such as family storytimes, college and career help, and technology training, and fewer materials, including books, DVDs, and more.
On Thursday, May 18, Queens Public Library, along with the Brooklyn and New York public library systems, will be testifying before the City Council about the vital role libraries play in the lives of our customers and the harsh realities of the proposed cuts. Prior to the hearing, the three library presidents, staff and supporters will gather on the Broadway sidewalk outside of City Hall Park for a rally at 9:15 a.m. to urge our City's leaders not to cut libraries in the upcoming budget. Please RSVP here if you can join us. Thank you for your support of public libraries!