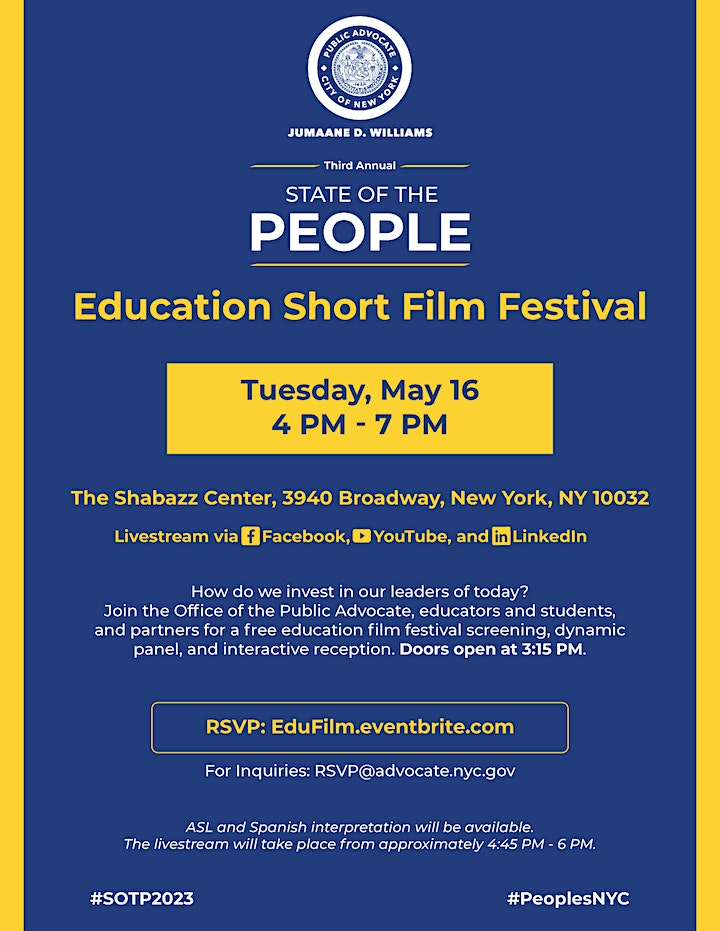 State of the People: Education Short Film Festival Tickets, Tue, May 16, 2023 at 3:15 PM | Eventbrite
Dear community members, leaders, and advocates,
I hope you're doing well this week and making time to take care of yourself and those you love.
We are thrilled to invite you to our upcoming *in-person* event – NYC Public Advocate State of the People: Education Short Film Festival this Tuesday, May 16th from 4-7pm. Doors open at 3:15pm. Please RSVP here today to join us in person and pass along to those you know!
JOIN US THIS TUESDAY, MAY 16th FROM 4-7pm! DOORS OPEN AT 3:15PM
What: NYC Public Advocate State of the People: Education Short Film Festival, Panel, & Interactive Reception
When: Tuesday, May 16th @ 3:15pm doors open, event 4pm-7pm
Where: The Malcolm X & Dr. Betty Shabazz Memorial & Educational Center, 3940 Broadway, Manhattan, NY
Accessibility: ASL and Spanish Interpretation provided; ASL e interpretación en español estarán disponibles en este evento
IN COMMUNITY WITH OUR PARTNERS
How far does your dollar go in our public schools and for our children? How do we invest in our leaders of today? Join the Office of the Public Advocate and partners for a free education film festival screening, dynamic panel, and interactive reception.
Following the screening, local education leaders, advocates, and students will participate in a panel discussion to discuss the ways our dollars are impacted by the current New York City budget to make sure our children have the resources and types of quality schools they deserve — along with strategies for advocating for your needs in our current city budget. The event will conclude with an interactive reception where attendees will have the opportunity to connect their top issues with local, citywide, and national organizing groups to take action together right now. The event will be held at the historic Malcolm X and Dr. Betty Shabazz Center.
Screening Films
Featured Panelists
Moderator: Mark Winston Griffith (he/him), journalist, School Colors
Zakiyah Ansari (she/her) – Advocacy Director and New York City Director, Alliance for Quality Education
Leonie Haimson (she/her) – Founder & Executive Director, Class Size Matters
Naomi Peña (she/her/ella) – Co-Founder, Literacy Academy Collective
Lisa Nishimura (they/she/ella) – Engagement Coordinator, Young Invincibles
Melanie Rosas-Reyes (she/her/ella) – sophomore high school student & Youth Program Director, Integrate NYC
Event Partners
Literacy Academy Collective
People's Plan
More on State of the People: This May, New York City Public Advocate Jumaane D. Williams will deliver his annual State of the People address during a town hall where he will outline his top policy priorities the city, state and federal government must pursue in the year ahead. Leading up to the Public Advocate's town hall, our office will be hosting a series of community engagement events and activities throughout the city focused on the reforms the Public Advocate is pushing for in the year ahead, with the goal of organizing New Yorkers around the changes we need in New York. For Inquiries: rsvp@advocate.nyc.gov
Looking forward to seeing you soon!


Many thanks,
Elizabeth
______________________________________________________________________________________________
Estimados miembros de la comunidad, líderes y defensores,
Espero que te esté yendo bien esta semana y haciendo tiempo para cuidarte a ti mismo y a tus seres queridos.
Estamos encantados de invitarlo a nuestro próximo evento *en persona* – La Condición de la Gente Por El Defensor Del Pueblo Jumaane D. Williams: Festival de Cortometrajes Educativos este martes 16 de mayo de 4 a 7 p.m. Apertura de puertas a las 15.15 h. ¡Por favor confirme su asistencia aquí hoy para unirse a nosotros en persona y compartirlo con sus conocidos!
La Condición de la Gente: Festival de Cortometrajes Educativos
¿Hasta dónde llega su dólar en nuestras escuelas públicas y para nuestros niños? ¿Cómo invertimos en nuestros líderes de hoy? Únase a la Oficina del Defensor Público y sus socios para una proyección gratuita del festival de cine educativo, un panel dinámico y una recepción interactiva.
Después de la proyección, los líderes educativos locales, los defensores y los estudiantes participarán en un panel de discusión para analizar las formas en que el presupuesto actual de la Ciudad de Nueva York afecta nuestros dólares para garantizar que nuestros niños tengan los recursos y los tipos de escuelas de calidad que merecen, junto con con estrategias para abogar por sus necesidades en nuestro presupuesto actual de la ciudad. El evento concluirá con una recepción interactiva donde los asistentes tendrán la oportunidad de conectar sus temas principales con grupos organizadores locales, de la ciudad y nacionales para actuar juntos ahora mismo. El evento se llevará a cabo en el histórico Malcolm X and Dr. Betty Shabazz Center.
ASL e interpretación en español estarán disponibles en este evento.
Ubicación: El Centro Educativo y Conmemorativo Malcolm X & Dr. Betty Shabazz 3940 Broadway, Nueva York, NY 10032
Hora: Las puertas se abren a las 3:15 p. m. y el evento finaliza a las 7 p. m.
Los segmentos de este evento se transmitirán en vivo en Facebook, LinkedIn, y YouTube desde aproximadamente las 4:45 p. m. a las 6 p. m.
Proyección de películas
Deja que la lucecita brille
Una tormenta perfecta: la toma de control de las escuelas públicas de Nueva Orleans
El derecho a leer
Por qué importa el tamaño de la clase
Panelistas destacados
Moderador: Mark Winston Griffith (él/él), School Colors
Zakiyah Ansari (ella/ella) – Alianza para la Educación de Calidad
Leonie Haimson (ella) – El tamaño de la clase importa
Naomi Peña (ella) – Colectivo Academia de Alfabetización
Lisa Nishimura (they/she/ella) – Coordinadora de Compromiso, Jóvenes Invencibles
Melanie Rosas-Reyes (she/her/ella) – estudiante de segundo año de secundaria y Directora del Programa Juvenil, Integrate NYC
Socios de eventos
Alianza para la Educación de Calidad (AQE)
Defensores de los Niños de Nueva York (AFC)
Coalición de Inmigración de Nueva York (NYIC)
Coalición de la Ciudad de Nueva York para la Justicia Educativa (CEJ)
Colectivo Academia de Alfabetización
Colores de la Escuela
El Grupo de Trabajo de Escuelas Centradas en la Curación
El tamaño de la clase importa
IntegrateNYC
Jóvenes Invencibles
Punto de vista PBS
The Education Trust – Nueva York
YVotar
Estado de las personas: este mayo, el defensor público de la ciudad de Nueva York, Jumaane D. Williams, pronunciará su discurso anual sobre el estado de las personas durante un ayuntamiento en el que describirá las principales prioridades políticas que la ciudad, el estado y el gobierno federal deben seguir en el año. adelante. Antes del ayuntamiento del Defensor Público, nuestra oficina organizará una serie de eventos y actividades de participación comunitaria en toda la ciudad centrados en las reformas que el Defensor Público está impulsando para el próximo año, con el objetivo de organizar a los neoyorquinos en torno a los cambios. necesitamos en Nueva York. Para consultas: rsvp@advocate.nyc.gov
Muchas gracias,
Elizabeth