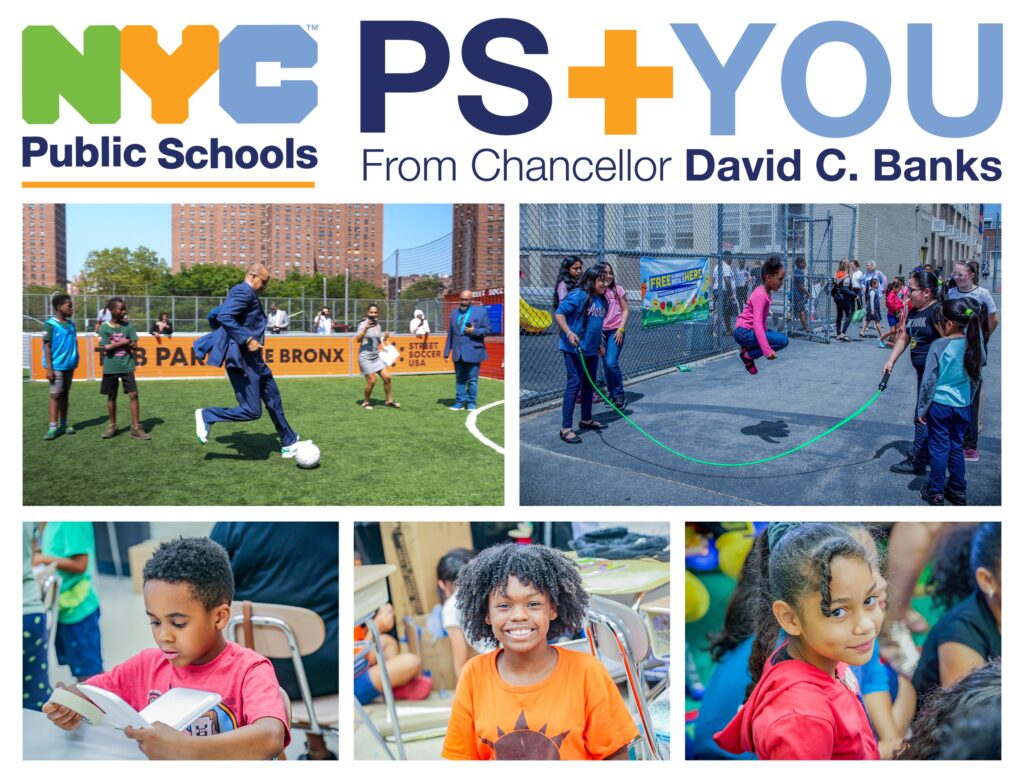 العربية / বাংলা / 中文 / Français / Kreyòl ayisyen / 한국어 / Русский / Español / اردو
Summer Rising Students Soar…with Help from the Community
Dear New Yorkers,
As August winds down, I am reflecting on our popular Summer Rising program, which has reinforced for me the value of strong community partnerships in keeping kids learning throughout the summer months. Our free summer learning program for students in grades K–8 across the city gave kids the chance to grow, learn, and explore their talents through fun and enriching activities. I had a blast visiting sites around the city and hearing how this wonderful program, a partnership with the Department of Youth and Community Development, had made a real difference in children's lives.

At P.S. 55 Benjamin Franklin, a community school in the Bronx, I watched students solve complex math problems, kicked a ball around the school's world-class soccer field, and shot hoops on the new basketball court. Principal Luis Eladio Torres, whom I have known for many years, is a forceful advocate for his community; thanks to his efforts, the school also has a beautiful new cafeteria, an onsite dentist, and a garden where students grow produce for the school community. Torres credits these innovations to strong partnerships with the community-based organizations (CBOs) BronxWorks and SCAN-Harbor. What a wonderful environment to learn in!
I also loved spending time at P.S. 132 Juan Pablo Duarte, a community school in Washington Heights. I visited during the enrichment portion of the program, led by the CBO, Catholic Charities Community Services, Archdiocese of New York, and saw students learning physics while creating roller coasters out of paper plates. I am proud that the school has a laundromat in the basement and operates a food pantry through its partnership with Urban Arts, Community School Director Domingo Estevez, and other local groups, increasing access to nutritious food and clean clothes.

Summer Rising reflects our mission to create purposeful and intentional opportunities for students to learn outside the four walls of the classroom while building on skills that will serve them well in the next school year. The community partnerships at the heart of this program really pay off for kids: with more field trips, more enrichment opportunities, more exposure to the arts, culture, and science, and stronger social-emotional support. The best part is seeing students applying their skills in the real world, and lighting up a pathway to the bright futures they deserve.

After hearing how so many students have thrived these past couple of months, I have even higher hopes for what's to come in the fall. I hope you enjoy the rest of your summer, and I look forward to seeing your children back at school in September.

Soaring high,

David C. Banks
Chancellor


Our Spotlight Video
For translations, please visit our YouTube page.
And here's the weekly video from Mayor Eric Adams. If you're interested in receiving updates directly from the Mayor's Office, please click here.