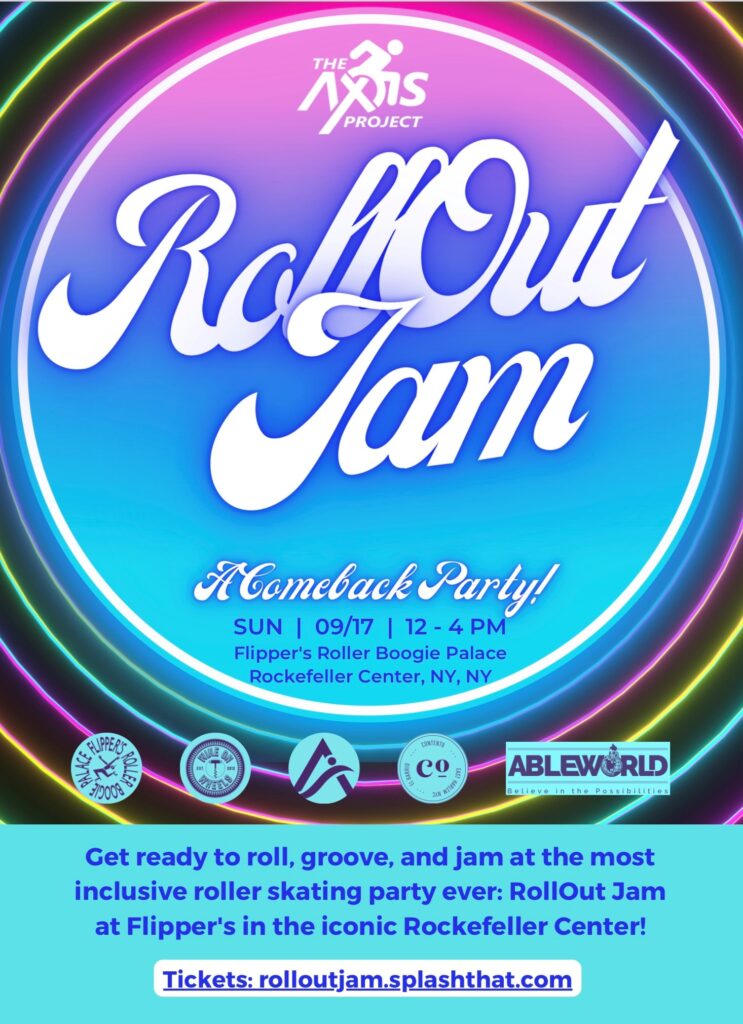 THE AXIS PROJECT PRESENTS: ROLLOUT JAM "A COMEBACK PARTY"

SUN | 09/17 | 12 – 4 PM
Flipper's Roller Boogie Palace
Rockefeller Center, NY, NY


Get your tickets at: rolloutjam.splashthat.com
Get ready to roll, groove, and jam at the most inclusive roller skating party ever: RollOut Jam at Flipper's in the iconic Rockefeller Center!

RollOut Jam: Where all abilities unite for an unforgettable day on wheels! Join us to break barriers, celebrate differences, and enjoy delicious food by Contento.

Experience a diverse lineup of DJs, dancers, songwriters, podcasters, and disability community members.

Come as you are, and let the music move you!
Get your tickets at: rolloutjam.splashthat.com


The Axis Project is a 501c3 non-profit and pioneering gym that offers adaptive programming and equipment in East Harlem, NY. We foster personal growth through valuable programming, resources, and scholarships, making our mission more impactful!

Are you curious about getting involved as a partner, sponsor, or volunteer? Email us at: ROLLOUTJAM@AXISPROJECT.ORG
Christopher Noel
ADA Accessibility Coordinator
Capital Projects
M (646) 632-7344
T (718) 760-6831
F (646) 360-3314
E christopher.noel@parks.nyc.gov
NYC Parks
The Olmsted Center
Flushing Meadows Corona Park
117-02 Roosevelt Avenue
Flushing, NY 11368
Follow Parks on: Facebook | Twitter | Instagram | YouTube | Periscope | Snapchat