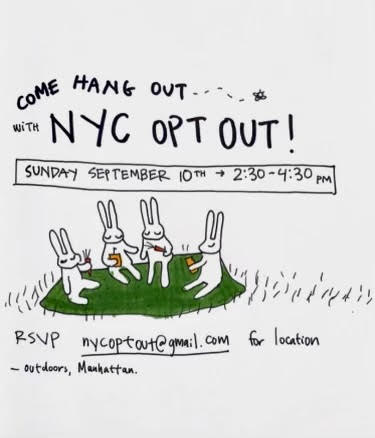 Come hang out with NYC Opt Out!
It's been a long time since we've met in person, but if the weather is fine we have a plan.
We'd love to see you whether you are brand new to this or have been fighting the good fight with us for years.
Please bring:
+your thoughts for the coming school year
+your own snacks and drinks and/or (optionally) extra to share…there is also a Shake Shack in the park or, for a splurge, Eataly across the street
+ something to sit on (blanket, chair, etc)
Kids welcome! Looking forward to seeing folks!
Where:
The Oval Lawn, Madison Square Park, Manhattan
Take the 6, R, or W to 23 Street
Weather:
@NYCOptOut or our Facebook page.
We will post a link to meet online.
R.S.V.P. nycoptout@gmail.com—
NYC OPT OUT
Visit us on facebook,