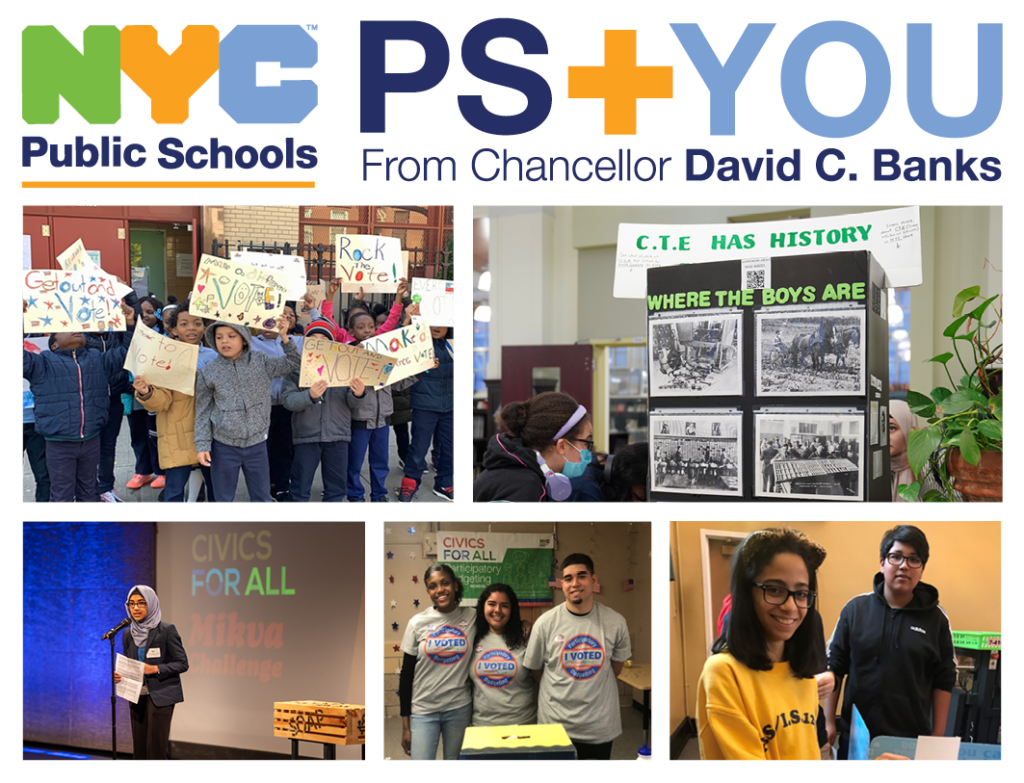 العربية / বাংলা / 中文 / Français / Kreyòl ayisyen / 한국어 / Русский / Español / اردو
Reflecting on Election Day
Dear New Yorkers,
When I was a student at Hillcrest High School, I served as vice president of my senior class, and the experience fostered in me a lifelong commitment to civic engagement and service.
Both then and now, our schools nurture the leaders of tomorrow—by providing real-world, hands-on learning today. I can think of three terrific examples just from the past few weeks.
The first is via Civics for All (CFA), our civic empowerment initiative that includes student voter registration, curricula, civic action projects, and more. On Election Day, nearly 200 teachers received professional learning to launch one of our CFA programs called Participatory Budgeting in Your School. Participatory budgeting is a democratic process where community members—in this case, students—make decisions about how to allocate public funds to best meet their community's needs. Each of our 400-plus participating schools will receive funding for this purpose, and they'll form student-run steering committees to conduct research and develop proposals on potential uses for the money. Then, this winter, students will cast their ballots to determine how the funds are spent.
What's especially unique about this program is that it mirrors a citywide effort underway right now. The NYC Civic Engagement Commission is collecting participatory budgeting proposals at the city level, and any New Yorker ages 11 and up can submit an idea through November 19.
In another great example of civic engagement, students from Union Square Academy recently rededicated and expanded an innovative exhibit in their school library that explores the history of their 110-year-old building, the Washington Irving High School campus in Manhattan. Back in 2020, custodial engineers discovered a trove of artifacts about the school, including photos and newspaper clippings, which students began preserving, analyzing, and curating to create the exhibit. They now lead tours as "school history docents" for alumni, community partners, and their peers.
And finally, the City recently announced the winners of "We're Walking Here," a contest where schools created public service announcements focused on street safety. This safety reminder is especially relevant this time of year, when we spend much of our commutes in the dark. Congratulations to our winners: IS 59 and PS 211 in Queens and PS 396 and PS 723 in the Bronx. Thank you for your engagement and activism to keep our city safe.
As we reflect on Election Day, I encourage anyone eligible to vote but not yet registered in New York to do so here. I'm proud to say that since 2019, NYCPS has registered over 80,000 new voters, and that number will increase during our annual Civics Week, which will take place this spring from March 11-15.
Soaring high,
David C. Banks
Chancellor
Our Spotlight Video: Students from Union Square Academy recently expanded an innovative exhibit in their school library that explores the history of their… | Instagram
For translations, please visit our YouTube page.
And here's the weekly video from Mayor Eric Adams. If you're interested in receiving updates directly from the Mayor's Office, please click here.