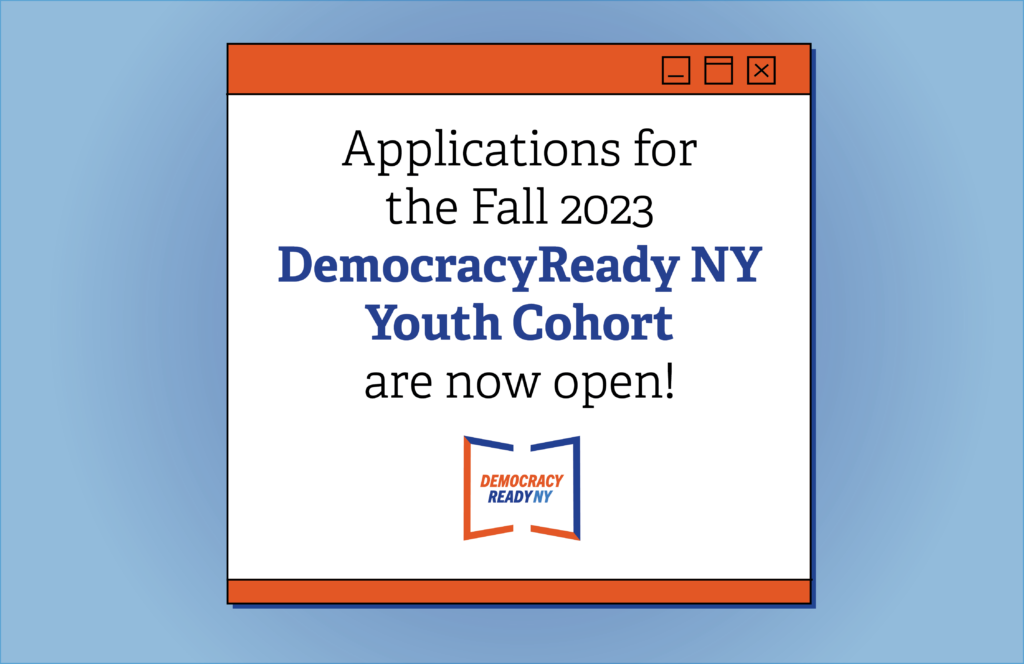 Are you a high school or early college student from New York State? Join us this semester as a DemocracyReady NY Coalition Youth Member! Applications are now open.

Deadline: October 1st

Youth Members will…
✔️advocate for NY students' right to be prepared for civic participation
✔️engage in student-led inquiry
✔️work alongside a statewide, nonpartisan, intergenerational coalition of organizations & individuals!
 
Apply Here

DemocracyReady NY is a statewide, nonpartisan, intergenerational coalition of organizations and individuals committed to preparing all students for civic participation. The DemocracyReady NY Coalition values youth leadership and participation across all areas of advocacy. To that end, our youth engagement program is designed to support and amplify the voices of young people from urban, rural, and suburban districts across New York State as they engage in student-led inquiry and advocacy, and as they work alongside coalition members to advocate for New York students' right to be prepared for civic participation. DemocracyReady NY is a project of the Center for Educational Equity at Teachers College, Columbia University. Copyright © 2023 CenterforEducationalEquity.org. All Rights Reserved.


Teachers College, Columbia University
525 W 120th St New York, NY, 10027-6605, US
Tel: (212) 678-8318
Deadline EXTENDED: October 1st to Apply Today to Become a DemocracyReady NY Coalition Youth Member! Teachers College Columbia University